Andrew & Jordan McCourry
Our seasoned workforce are training the next generation of workers. We are involved in our community by giving a helping hand wherever we can.
At ABC, we put our quality to the test
Established in Salem, OR in 1936, we have been a member of the Salem community for 80+ years (longer than any of our competitors!) and intend to be around for many more years to come.
We are proud to be OSHA compliant, meet SAIF workman's compensation standards and maintain a $2,000,000 liability insurance policy.
What is known as "ABC Window Cleaners and Building Maintenance, LLC" was first established in 1936 under the name of "Professional Cleaning Service," by Dale Stanley. The company motto was "Let There Be Light," and the phone number was 4457.
In 1946, Dale Stanley sold the business to his brother Frank. Frank renamed the company to "ABC Window Cleaners" for a prime spot in the phone book, and changed the motto to "Receive the Service You Deserve."
Mrs. Stanley sold the business to Wayne Moore in 1966. Wayne wanted the business to have a long-standing reputation for quality and to maintain the long list of clientele, which he did for 23 years.
The Current owner of ABC Window Cleaners is Todd Londin. Todd combined his janitorial company, First Impressions Last, with ABC Window Cleaners to be able to offer full service building maintenance and cleaning needs. Todd is committed to maintaining and growing ABC Window Cleaners.
Throughout all of the ownership changes, three constants have remained:
Our commitment to quality service
Our phone number, 4457 is now (503) 363-4457
Our satisfied customers, some of whom have been with us for over thirty years
We're dedicated to recycling, reusing, and purchasing remanufactured products whenever and wherever possible.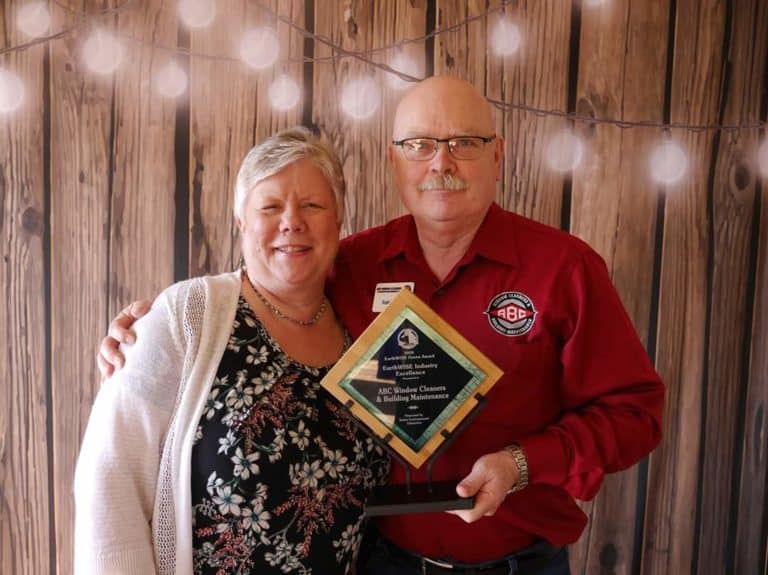 Storm Water Runoff Prevention
When we pressure wash, we create a bio-barrier with any storm drain in the immediate area to prevent contaminants from entering it. Also, when we clean carpets with our truck-mounted carpet cleaning unit, we always dump the used water into the sewer system, not into the storm drains. Preventing pollution from entering water is much more affordable than cleaning polluted water!
We participate frequently in the household hazardous waste disposal with Marion County and we have received our EarthWISE certification through Marion County Public Works – Environmental Services.
Whenever we clean out a location where someone has left clothing or other goods or materials, we always find good homes for those items by matching them to the local charities in need. Our window cleaning rags are made from surgical cloth material that were used only once by a hospital, then have been cleaned and sterilized for resale. We use them for up to 2 years before they then are remarked as emergency cleanup rags for paint or oil. We use paper grocery bags over and over again to carry and hold general recycling materials that we later sort in our recycling bins. These bags get about 5 or 6 uses before becoming torn and then are placed in recycling themselves.
We currently recycle products at our location as well as assisting many of our clients to recycle: batteries, fluorescent lights, styrofoam, cardboard and paper of all kinds, metal, and plastic bags. The Together We Can program (previously known as the KANZ for Kids project) started as a fundraising idea by our President, Todd Londin. It has since evolved into a uniquely designed project, bringing together community volunteers and at-risk youth – providing ongoing financial support and real world work experience for Northwest Human Services' HOST youth. Runaway and homeless youth from the HOST Transitional Living Program work together in teams with community volunteers collecting redeemable cans from collection sites throughout the community. The returnable cans and bottles are redeemed to provide sustained community based income for the HOST Program.
We purchase a lot of our cleaning supplies and products from a local distributor for Procter & Gamble that focuses on offering many innovative products that are environmentally friendly. For example, all of our cleaning crews use O'Dell Echo mop-heads which use engineered fibers produced entirely from recycled materials, which include components such as cotton and PET plastic bottles. They absorb over 4.4 times their weight in water and release almost 30% upon wringing. We use 100% recycled office copy paper.
Small Business of the Year
Salem Area Chamber of Commerce
Outstanding Construction Alliance Member
Community of Heroes Award
Disabled American Veterans
Green Award
Earthwise Industry Excellence
Some of our Happy Customers include:
"ABC Window Cleaners is our go-to cleaning company for post construction cleaning and window cleaning. We put our full trust in ABC to get the job done. ABC has been able to rejuvenate existing flooring and bathroom fixtures that we never thought was possible. Incredible service on every job."
"As a business owner and a property owner, I know how important curb appeal is to my clients and my tenants. For many years, I have counted on ABC as a trusted partner to keep my properties looking their best. They are always on time, do more than I expect and the cost is extremely reasonable."
"ABC Window Cleaners & Building Maintenance has been delivering top quality services to the Salem area for decades. They are well known for their thoroughness and attention to detail. For window and gutter cleaning and final construction cleaning, you can always count on ABC."
"Not only does ABC Window Cleaners do a great job, but they do it with a smile. Every person we have interacted with was friendly and eager to answer any questions both in the office and on the work site. We appreciate the attention to detail and the efforts that they take to get the job done efficiently and with minimal disruption to our guests."
"We have used ABC Window Cleaners for both janitorial and window cleaning multiple times and will continue to use and recommend them in the future. Why do we continue to use them? Because they are simply the Best! They're very easy to work with, provide great service and have always been great with answering any questions or concerns that we may have."
"ABC Window Cleaners and Bldg. Maintenance can't be beat! We have used this company for over 20 yrs and never been disappointed with the quality or price. They are some of the nicest and most honest people you'll ever work with. We highly recommend them."
"ABC Window Cleaners has helped me with numerous projects over the years from window cleaning to small building maintenance projects. They are always very fair with their pricing and show up when they say they will. Their work is always quality and exceeds my expectations. I recommend ABC for any building maintenance or cleaning projects!"
"Thank you for your excellent service and fair price cleaning windows gutters roofs and all around cleaning of recently vacated commercial tenant spaces. I recommend ABC Windows to anyone who has a need for your services."
"Brenda and her crew are friendly, very accommodating with scheduling and always professional and efficient. ABC is our go-to company for all our post-construction cleans and they do an amazing job cleaning our jobsites so customers can move back into their homes after remodels!"
"I have worked with ABC Window Cleaners & Building Maintenance for many years now on a variety of locations and job types. They provide accurate bids, work is completed in a timely manner and the billing is crisp and clean. They are professional in all facets of their business and are a delight to work with. I can highly recommend ABC Window Cleaners & Building Maintenance!"
Get a free, no-obligation quote today!