ABC Window Cleaners
& Building Services
Committed to Quality Service
Serving the Willamette Valley since 1936
ABC Windows has built itself upon a long-standing reputation for quality and customer support in the Willamette Valley since 1936. Todd and Brenda Londin's commitment to high quality cleaning and maintenance services continues to this very day.
Services With A Personal Touch
Our IIRC trained carpet cleaners use the latest technology in equipment for residential and commercial applications.
Our professional teams have designated supervisors, keep a strict log of activities and requests, and communicate regularly.
We are post-construction cleaning professionals that make your building projects look good while keeping safety as a high priority.
Our attention to detail is second to none. From stripping and waxing, wood floor care, carpet cleaning, we provide all your floor care needs.
We can respond to all of your pressure washing needs, whether it be concrete, brick, asphalt, or other tough surfaces.
We clean all styles and composites of roofs including: large, flat, white, rubberized, stone, concrete, tile or asphalt shingle roofs.
When we clean your windows, we don't just "wash the glass", we also clean all the screens, tracks and frames, including sills and ledges.
We can remove deposits from silica-based surfaces, then apply restoration products to prolong the life of your glass, tile, ceramic, etc.
We're proud of our quality and safety standards
ABC Windows maintains OSHA compliance, meets SAIF workman's compensation standards and maintains a $2,000,000 liability insurance policy.
Serving the beautiful Willamette Valley
We can provide our services to your home or business in the metro area of Salem, Oregon.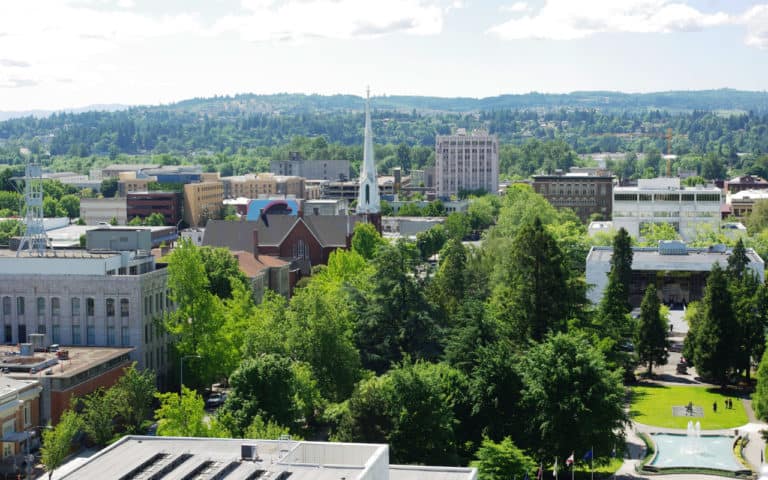 Salem
Get a free, no-obligation quote today!
Some of our Happy Customers include:
"ABC Window Cleaners is our go-to cleaning company for post construction cleaning and window cleaning. We put our full trust in ABC to get the job done. ABC has been able to rejuvenate existing flooring and bathroom fixtures that we never thought was possible. Incredible service on every job."
"As a business owner and a property owner, I know how important curb appeal is to my clients and my tenants. For many years, I have counted on ABC as a trusted partner to keep my properties looking their best. They are always on time, do more than I expect and the cost is extremely reasonable."
"ABC Window Cleaners & Building Maintenance has been delivering top quality services to the Salem area for decades. They are well known for their thoroughness and attention to detail. For window and gutter cleaning and final construction cleaning, you can always count on ABC."
"Not only does ABC Window Cleaners do a great job, but they do it with a smile. Every person we have interacted with was friendly and eager to answer any questions both in the office and on the work site. We appreciate the attention to detail and the efforts that they take to get the job done efficiently and with minimal disruption to our guests."
"We have used ABC Window Cleaners for both janitorial and window cleaning multiple times and will continue to use and recommend them in the future. Why do we continue to use them? Because they are simply the Best! They're very easy to work with, provide great service and have always been great with answering any questions or concerns that we may have."
"ABC Window Cleaners and Bldg. Maintenance can't be beat! We have used this company for over 20 yrs and never been disappointed with the quality or price. They are some of the nicest and most honest people you'll ever work with. We highly recommend them."
"ABC Window Cleaners has helped me with numerous projects over the years from window cleaning to small building maintenance projects. They are always very fair with their pricing and show up when they say they will. Their work is always quality and exceeds my expectations. I recommend ABC for any building maintenance or cleaning projects!"
"Thank you for your excellent service and fair price cleaning windows gutters roofs and all around cleaning of recently vacated commercial tenant spaces. I recommend ABC Windows to anyone who has a need for your services."
"Brenda and her crew are friendly, very accommodating with scheduling and always professional and efficient. ABC is our go-to company for all our post-construction cleans and they do an amazing job cleaning our jobsites so customers can move back into their homes after remodels!"
"I have worked with ABC Window Cleaners & Building Maintenance for many years now on a variety of locations and job types. They provide accurate bids, work is completed in a timely manner and the billing is crisp and clean. They are professional in all facets of their business and are a delight to work with. I can highly recommend ABC Window Cleaners & Building Maintenance!"